falling away
The wooden doorframe is the entry to a mud-walled shack. Enter the home, and one finds a guest sofa that sits three, leaving just enough space for the plank door to shift half open. The unveiled sunlight shines in through this sole opening, illuminating half of the sofa but leaving the other sofas, tightly pressed against each other, in soft shadow. A television cabinet connects the sofas to the curtained bed. This bed, in Kianda, Kibera, has accommodated Rose Adhiambo Opundo since she was married to her husband. They came to Nairobi more than twenty years ago. It was also on this bed that Rose watched her right breast gradually bleed away.
"I just realized this thing when I was taking my shower." It was in July 2014 when Rose touched a lump underneath her right armpit. She realized that she had seen a public service announcement on TV: lumps lead to cancer. "So I just went to the Kenyatta Hospital when it was small, very small, something which could be pulled out." In the following year, as Rose returned to Kenyatta for ceaseless booking, testing, measuring, and scanning, the lump grew inside her, until it finally burst. That was when the doctor at Kenyatta Hospital diagnosed her with stage two breast cancer.
"I didn't get any meat on the bed, but it was bleeding and it was reducing. You don't have strength. You can't eat. You drink only water. You are just there." Rose was then admitted into the cancer clinic at Kenyatta National Hospital, as well as its palliative care center. But because of the two-year long wait for treatment at Kenyatta Hospital, all she could get from the hospital was counseling at 300 Kenyan shillings per session, and morphine at 750 KES per bottle. Neither of those expenses was covered by the National Hospital Insurance Fund she has been paying since she started working in 1997.
Although palliative care is supposed to be holistic, the reality is that killing the pain is the most effective action, besides the promises of hope for a cure. Next to the sofa that Rose normally rests on is a table piled with some simple objects. Among them is a bottle of morphine, the measuring syringe, and her Bible, all immediately accessible. "When I am feeling pain and I take the morphine, you just feel the way there is strength in the body. You feel a little bit coldness in your veins and the pain goes down."
Killing the pain does not stop the cancer cells from eroding the skin around her disappearing breast. Rose decided to seek other options for a cure, despite the expense. She gave up waiting for the public health system and started chemotherapy at Texas Cancer Centre, a private hospital in Nairobi. Her friends at Our Lady of Guadalupe Catholic Church organized donations for the treatment at 26,000 KES ($260.00) per injection.
In the late afternoon of August 22, 2015, Rose finished her second of six injections. Her daughter Sylvia called her asking why she was still not home. She faintly told her that she would go back home after seeing the doctor. The injected vein on the back of her left hand was swollen. She told the nurse that she was feeling pain there. The nurse told her just to wait for a couple of minutes; it will disappear. She sat back and quietly pressed on her vein, not knowing if a friend would bring food for dinner, or whether she would be able to pay for her next chemotherapy injection scheduled twenty-one days later.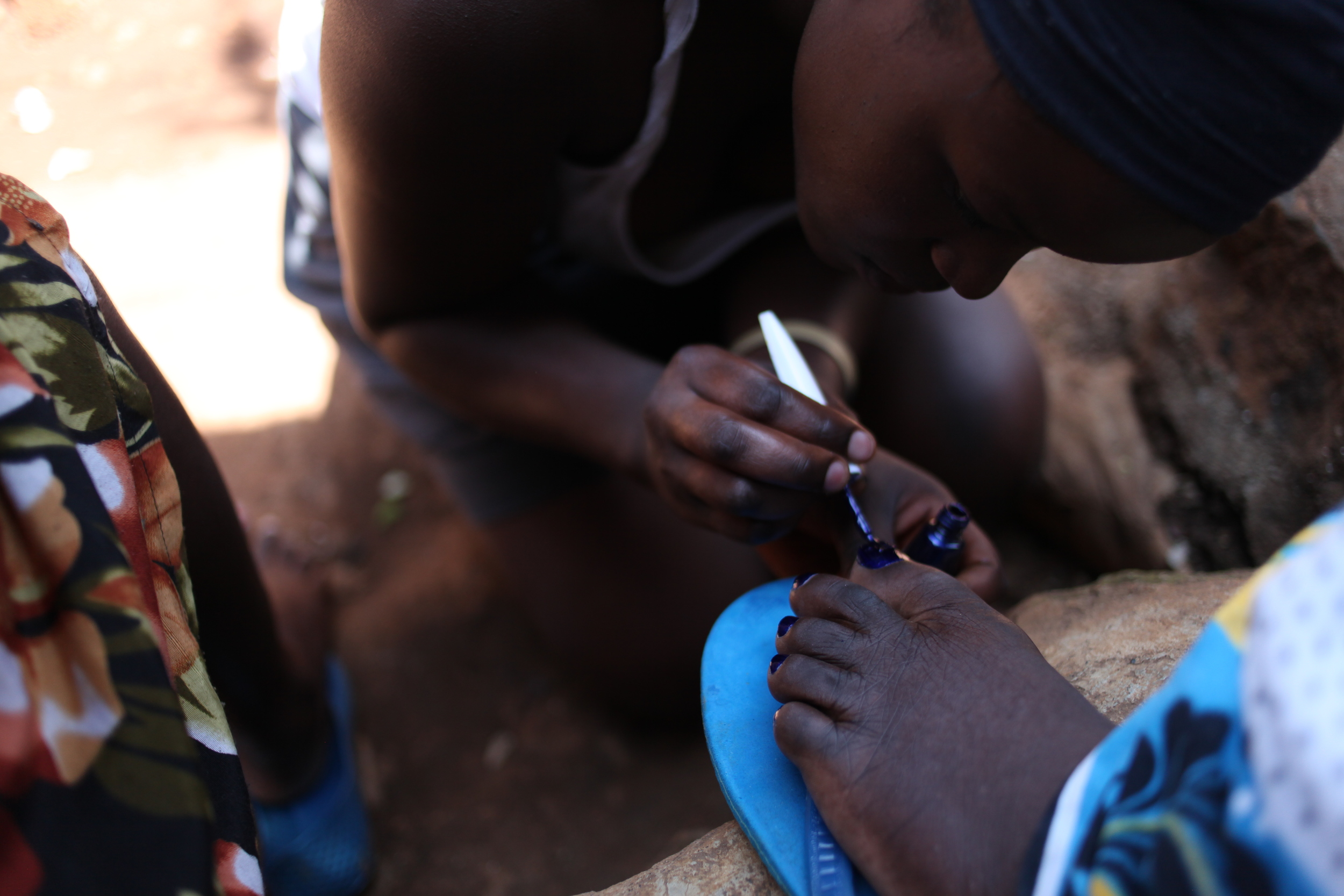 holding together
Morning in Kibera, considered the largest slum in Africa, begins with cleaning. Water from the Nairobi River is brought up into the alleys, loaded into yellow buckets, and taken to every door in the neighborhood. In the swinging tempos of Kenyan music flying out of the doors, girls and women kneel on the floors covered with plastic canvas or just cement, mopping away the dust from yesterday. Muddy water is poured into the alley, forming a turbid stream reflecting the morning sunlight.
Rose took her stool to the higher place where the public bathroom is. She sat quietly in the early morning sun as her children were cleaning their rooms and washing yesterday's clothes. She rents two rooms along this alley, one for herself and the other for the four children: her firstborn Sylvia, her last born Tracy, her dead brother's son Eric, and her sister's daughter Sharon. Rose's husband died of tuberculosis in 2005. Since then, she has chosen to remain alone, because she knew, as she said, "Marrying again is risking the life of your children. If you stay somewhere happy, you don't know where your children are. That is not a good future. So I decided to stay with my children."
Before she was diagnosed with cancer, Rose used to work at the Gables Apartments, a high-end, long-term rental for international clients in Westlands, Nairobi. It was a decent job, paying enough for her to sustain the family independently. But, as Rose recalled, "when this cancer came, that was when I started getting difficulties. To eat, I have to call somebody, 'please today I don't have anything.'" Sometimes these calls bring four passion fruit, but sometimes these calls are responded to with an "I'll call you later." "That later will even take five days," added Rose. She does not know when, or if, she will be able to work again.
Besides food, she also needs money for her morphine and her next chemotherapy. She mostly relies on prayer. Back in August, Rose could only put all her hope in the fundraising event organized by St. Luke Catholic Church Kianda on October 11, 2015. The church wanted to raise 300,000 KES for Rose. She went back to the hospital for her third Chemotherapy on October 9th. Through this Tufts project, she was also introduced to KICOSHEP, an NGO bringing affordable community self-care to Kibera, hoping that she could get morphine at a cheaper price.
Rose has tried not to allow the changes brought by cancer to be all-consuming. In the midst of its suffocating bewilderment, Rose has never forgotten to change the covering sheets for the sofas in her room each week. She has two sets of sheets, one with orange corduroy rose embroidery, and the other with pink velvet bows. Similarly, while cancer's ruthless devouring of dignity succeeded in taking away the hair covering her head, Rose still asks the girls in her neighborhood to help polish her nails, putting on a new, shiny color each time.
feminine pain
August is the time for school break in Kenya. Kibera's alleys are filled with children of all ages. They announce their presence with endless chanting and chasing. They effortlessly fly over the uneven gutters of the alleys in adult size flip-flops. For most of the day, Rose sits on the stair outside of her door and watches the children in the neighborhood with a subtle smile. Her last born has been sent away to stay with her uncle in Mombasa. Sylvia, Sharon, and Eric are home everyday, doing all the cooking and washing for the family. Occasionally, they prepare a piece of papaya for Rose, or a peeled carrot between the meals. Fruits are good for Rose's health. Papaya is her favorite fruit.
The wound on her chest is scabbing and drying up. For Rose, there are still moments of happiness: "After I have started the injections, I am at least happy. I was in pain, and I didn't know whether or not I would survive. The last three months, it was the worst. I couldn't even move from that bed."
Cancer is a non-communicable disease, but the burden it brings falls on every relation and extends through and beyond blood ties, especially immediate family. Back in May, when Sylvia came home from her boarding school, seeing Rose in bed, she could only use "sad" to describe her feelings: "She didn't even have the energy to tell me hi. I saw that she was almost dying. Those cousins of mine need to go to school. She just remains alone and maybe by good luck someone comes and cooks for her."
For women, the breast is not just a symbol of femininity and motherhood. It is also the actual channel through which women express these two fundamental parts of their life. The pain of breast cancer is physical and social at the same time. Sylvia deeply understands that not being able to care for the children hurts Rose more than her drying wound. Sylvia added, "It is really painful to see someone that you love suffering."
And after all, Rose's father passed away when she was about to finish high school. With no money to continue her education, Rose had to get married. She always wished for her children a future outside of Kibera. So does Sylvia, for herself and her future kids: "Compared to the village, Kibera is a better place, but not that good. I don't want to stay here. I don't want my children to have that kind of life that I have ever experienced in the slum." But, with the arrival of cancer, Sylvia says, "I knew that from then on, no one would be able to pay for my school fees." She was supposed to be in Form Four, the last year of high school education in Kenya. No one knows if, without finishing her education, this wish shared across generations will be possible.
After a short dusk, night falls completely into the alleys of Kibera. This neighborhood of 2.5 square kilometers and 1.2 million people, in the boldest estimation, is lit only by five strong flood lights from high above. People return home from every direction, holding flashlights to find their next steps among the stones. Sylvia cooked tonight's dinner: Ugali, tomato with sliced cabbage, and some diced, deeply roasted beef. Eric took out the bowls from the cabinet and wiped them clean. Sharon was still on her way back from her rugby training. They started praying. Prayer has been the major support for the entire family. For Sylvia, "I need to have that faith that someday my mom can be healed and I can get out of here." For Rose, "Because I just stay in the house all the time, there is nothing I can do but in God's will praying."
a PROPITIOUS dream
In one of her dreams Rose saw herself being given a cow. It was a small, but fat cow. It was meant as a gift, but in her dream Rose knocked the cow with her own head and passed it to go on her way.
When a local priest came to Kibera to pray for the sick, she told him about the dream and asked why she was given the cow. The priest reminded her that in her Luo tradition, a cow is slaughtered at every death ritual to feed the entire village. As she has rejected the cow in her dream, she has also rejected death in her life. "You will heal faster," the priest told her. And so she believes.